MANILA, Philippines – The 6/55 grand lotto result for Wednesday, October 23, 2019 are available at this website, courtesy of the Philippine Charity Sweepstakes Office (PCSO).
Winning Numbers: 11-14-39-42-55-26
Jackpot Prize: Php. 85,195,184.20
Number of Winners: *
For winning numbers in previous dates of 6/55 Lotto, please refer to 6/55 Grand Lotto history and summary page.
PCSO as well as this website reiterate that nobody knows what will come out in lotto results. The winning numbers above can come in any order. You may also want to check the jackpot prize of the major lottery games of PCSO.
[table id=3 /]
The 6/55 Grand Lotto draw is conducted by PCSO at 9PM every Monday, Wednesday and Saturday.
How much is the Grand Lotto 6/55 ticket?
You can buy the ticket at 24 Pesos, inclusive of 20% Documentary Stamp Tax.
How to win 6/55 Lotto?
6/55 Lotto is currently the second PCSO game with the biggest initial jackpot at 30 million pesos.
To play the game, a player must choose 6 numbers from 1-55 and mark it in the playing card. Very simple.
The player can also mark down the Lucky Pick or LP shall he preferred the machine to choose the numbers for him/her. A systematic play is also available for 6/55 Lotto draws for more chances of winning.
A player can also win if he/she gets 3, 4 or 5 from the winning combinations. 20 pesos prize for three (3) correct combinations, up to 3,000 pesos for four (4) and 200,000 for five (5) winning numbers. They call it as pari-mutuel system where the prizes vary depending on the ticket sales.
How to claim your prize?
Where to claim your 6/55 Lotto Prize?
For the amount to claim of 20 up to 10,000 pesos, prizes can be claimed at the PCSO authorized lotto outlet nearest you.
At 10,000 pesos and above excluding the jackpot prize, prizes can be claimed at the nearest PCSO Branch office or at the PCSO head office located at 605 Conservatory Bldg., Shaw Blvrd., Mandaluyong City.
Shall you hit the jackpot prize, you may claim it at PCSO main office with the address above.
Prizes of 10,000 pesos above are taxable (20%) pursuant to TRAIN law.
Can I Play the 6/55 Lotto?
Yes as long as you are eighteen (18) years old and above, you can play the 6/55 Lotto at any outlet of your choice. The game is aired at PTV and PCSO social media accounts at 9:00 PM.
Further, here is your access to summary of lotto result today for all lottery games of PCSO.
Lotto Quick Reminder
Don't buy your lotto ticket elsewhere! Get it from the authorized PCSO outlets only.
PCSO Daily Schedule of Games
Here's the schedule of the lotto games, courtesy of PCSO.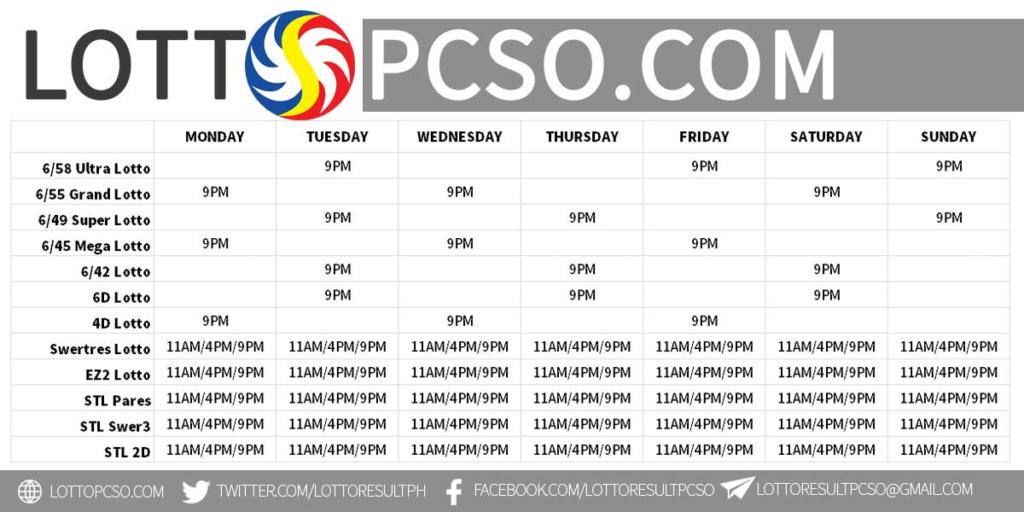 Updates
Did you win the 6/55 lotto for today, October 23, 2019? or at least 3-5 combinations? If in case, congratulations, If not, maybe this is not your lucky day. You can always try again.
We also love to hear your lotto lucky numbers today. Feel free to share your thoughts about the lotto results at the comment section below.
To receive timely updates regarding daily lotto draw results, refer to PCSO official website or follow us at our Facebook and Twitter accounts.