STL RESULT February 4, 2020 ? The Philippine Charity Sweepstakes Office (PCSO) announces the results of Small Town Lottery (STL) Pares, Swer3 and Swer2 for February 4, 2020 for its scheduled draws at 11AM (morning), 4PM (afternoon) and 9PM (evening).
The STL winning numbers and digits for February 4, 2020 below, which should come in exact order are courtesy of PCSO.
STL Pares: February 4, 2020
11AM: 14-33
4PM: 12-39
9PM: 08-23
STL Swer3: February 4, 2020
11AM: 1-4-9
4PM: 7-4-7
9PM: 9-9-6
STL Swer2: February 4, 2020
11AM: 6-6
4PM: 1-0
9PM: 5-7
~Refresh ???? the page for updated results…
Related Lotto Draws for Today
Itemized below are the recent updates on the results of the following PCSO lotto draws:
To know the history and summary of all lotto draws conducted by PCSO, you may visit the dedicated summary pages here.
PCSO as well as this website reiterate that nobody knows what will come out in any of the lotto draws. Please beware of other websites claiming the lotto winning numbers even day(s) ahead of the schedule.
Authorized Locations for STL Pares Draws
STL Lotto Draws are only authorized to operate at Abra, Agusan del Norte, Agusan del Sur, Angeles City, Apayao, Bacolod City, Baguio City, Basilan, Bataan, Batangas, Benguet, Bukidnon, Bulacan, Cagayan de Oro City, Camarines Norte, Catanduanes, Cebu Province excluding Cebu City, Compostella Valley, Cebu City, Compostela Valley, Cotabato City, Davao City, Davao del Norte, Davao del Sur, Davao Oriental, Eastern Samar, General Santos City, Guimaras, Ilocos Norte, Ilocos Sur, Isabela, Kalinga, La Union, Laguna including San Pablo City, Lapu Lapu City, Mandaue City, Misamis Occidental, Misamis Oriental, Negros Occidental, Negros Oriental, North Cotabato, Nueva Ecija, Nueva Vizcaya, Occidental Mindoro, Olongapo City, Pampanga Province, Quezon Province, Romblon, Santiago City, Saranggani, Siquijor, Sorsogon, Southern Leyte, South Cotabato, Surigao del Norte, Surigao del Sur, Tarlac, Western Samar, Zambales Province and Zamboanga del Norte.
All areas not mentioned will remain suspended.
Where to check the STL Pares Results?
Aside from lottopcso.com, players can also watch the STL Pares results in real-time via PTV as well as their online accounts via Facebook and Twitter. Official PCSO accounts are airing the lotto draws as well. In special occasions such as important national holidays, PCSO is announcing the suspension of draws days before the scheduled draw date.
PCSO Daily Schedule of STL Draws
Here's the schedule of the STL Pares games, courtesy of PCSO.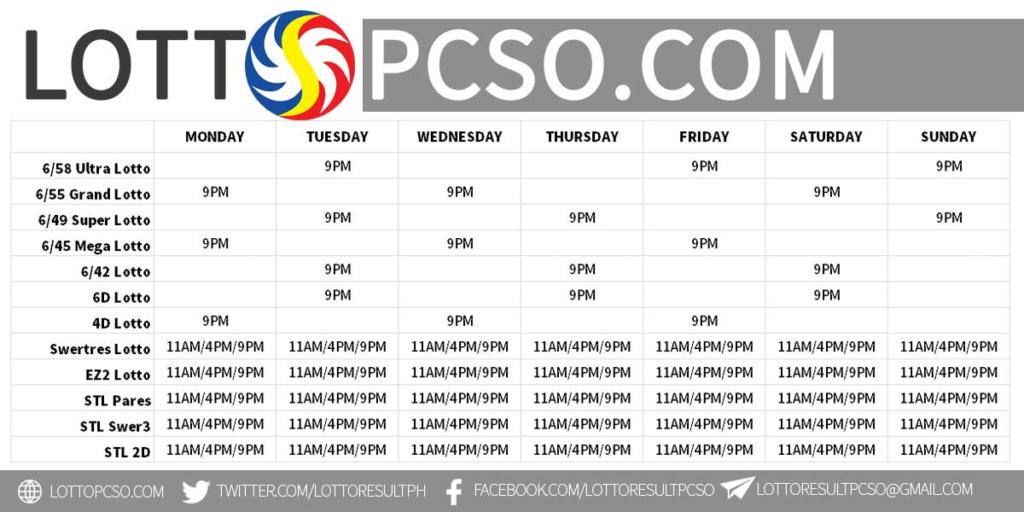 PCSO Notice to the Public
In an important recent announcement posted on January 4, 2020, PCSO clarified the adjustment of assistance to hospitalization, chemotherapy and dialysis for medical-financial assistance due to the mandate to remit 40% to PhilHealth. To quote the full statement,
In view of the implementation of the Universal Health Care Law (RA 11223), PCSO in compliance with the provision to remit forty percent (40%) of its charity fund to the Philippine Health Insurance Corporation (PhilHealth) to be used in improving the benefit package of its beneficiaries, changes in the provision of individual assistance shall be implemented effective January 1, 2020.

With this, there will be adjustments to the amount of assistance for hospitalization, chemotherapy and dialysis in order for the agency to respond to request for medical-financial assistance.

Those not included in the aforementioned types of assistance shall be deemed not covered by the new guidelines. All assistance to be extended by PhilHealth already incorporates PCSO's financial assistance.

PCSO Announcement dated January 4, 2020 10:11AM
STL Pares Updates
Are you one of the STL winners today, February 4, 2020? If in case, congratulations, If not, maybe this is not your lucky day. You can always try again.
We also love to hear your lotto lucky numbers today. Feel free to share your thoughts about the lotto results at the comment section below.
For clarifications, comments, complaints or suggestions about PCSO products and services, you may reach them through their official FB account.
To receive timely updates on daily lotto draw results, refer to PCSO official website or follow us at our Facebook and Twitter accounts.