STL RESULT May 23, 2020 ? The Philippine Charity Sweepstakes Office (PCSO) announces the results of Small Town Lottery (STL) Pares, Swer3 and Swer2 for May 23, 2020 for its scheduled draws at 11AM (morning), 4PM (afternoon) and 9PM (evening).
The STL winning numbers and digits for May 23, 2020 below, which should come in exact order are courtesy of PCSO.
STL Pares Result: May 23, 2020
11AM: Cancelled
4PM: Cancelled
9PM: Cancelled
STL Swer3 Result: May 23, 2020
11AM: Cancelled
4PM: Cancelled
9PM: Cancelled
STL Swer2 Result: May 23, 2020
11AM: Cancelled
4PM: Cancelled
9PM: Cancelled
~ Subscribe to our YouTube Channel! Refresh ???? the page for updated results…
Related Lotto Draws for Today
Itemized below are the recent updates on the results of the following PCSO lotto draws:
To know the history and summary of all lotto draws conducted by PCSO, you may visit the dedicated summary pages here.
PCSO as well as this website reiterate that nobody knows what will come out in any of the lotto draws. Please beware of other websites claiming the lotto winning numbers even day(s) ahead of the schedule.
Authorized Locations for STL Draws
STL Lotto Draws are only authorized to operate at Abra, Agusan del Norte, Agusan del Sur, Angeles City, Apayao, Bacolod City, Baguio City, Basilan, Bataan, Batangas, Benguet, Bukidnon, Bulacan, Cagayan de Oro City, Camarines Norte, Catanduanes, Cebu Province excluding Cebu City, Compostella Valley, Cebu City, Compostela Valley, Cotabato City, Davao City, Davao del Norte, Davao del Sur, Davao Oriental, Eastern Samar, General Santos City, Guimaras, Ilocos Norte, Ilocos Sur, Isabela, Kalinga, La Union, Laguna including San Pablo City, Lapu Lapu City, Mandaue City, Misamis Occidental, Misamis Oriental, NCR Eastern District, Negros Occidental, Negros Oriental, North Cotabato, Nueva Ecija, Nueva Vizcaya, Occidental Mindoro, Olongapo City, Pampanga, Quezon Province, Romblon, Santiago City, Saranggani, Siquijor, Sorsogon, Southern Leyte, South Cotabato, Surigao del Norte, Surigao del Sur, Tarlac, Western Samar, Zambales Province and Zamboanga del Norte.
All areas not mentioned will remain suspended.
Update February 2020: Hon. Royina Marzan Garma, the PCSO Chairperson and General Manager announced that pursuant to the instruction of PCSO board of directors, STL draw applications are also open to the following areas: Aurora, Oriental Mindoro, Northern Samar, Davao Occidental, Antique, Camiguin, Lanao del Sur, Maguindanao, Sulu, Tawi-Tawi, Ifugao, Masbate, NCR Western District, NCR Central District, Quirino, Iloilo City, Province of Iloilo excluding Iloilo City, Marinduque, Cebu City, Aklan, Sultan Kudarat, Province of Pampanga excluding Angeles City, Ilocos Norte, Nueva Ecija, Bulacan, Province of Zambales excluding Olongapo City, Angeles City, Pampanga, Tarlac, Bataan, Batangas, Quezon, Province of Laguna including San Pablo City, Occidental Mindoro, Sorsogon, Negros Occidental excluding Bacolod City, Zambales, Olongapo City, Zambales and Province of Capiz.
PCSO will likewise accept applications from February 5, 2020 to March 5, 2020. The guaranteed minimum monthly retail receipts shall be issued on the 2019 voting population of the areas.
Where to check the STL Pares Results?
Aside from lottopcso.com, players can also watch the STL Pares results in real-time via PTV as well as their online accounts via Facebook and Twitter. Official PCSO accounts are airing the lotto draws as well. In special occasions such as important national holidays, PCSO is announcing the suspension of draws days before the scheduled draw date.
PCSO Daily Schedule of STL Draws
Here's the schedule of the STL Pares games, courtesy of PCSO.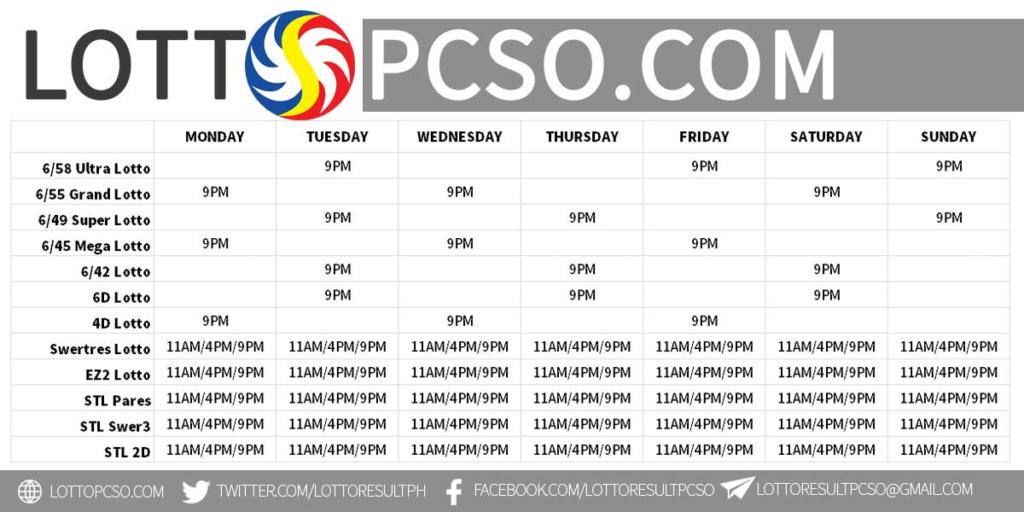 PCSO Lotto Jackpot Winners 2021
Since the start of 2021, PCSO has already given away more 1.5 Billion to thirty (30) lotto bettors around the country. Here's the summary of all lotto winners for 2021 PCSO draws.
2020 PCSO Lotto Jackpot Winners
21st: The last millionare of 2020 was from Baguio City. He/she won a jackpot prize of 20,980,657.40 in a 6/45 lotto draw in the combination, 06-25-15-29-12-33 during the December 30, 2020 draw.
20th: An addition to the list of 2020 jackpot winners was from Rodriguez, Rizal who won 23,902,883.80 in the December 19, 2020 6/42 draw in combination, 11-34-06-42-15-33.
19th: A solo bettor from Marilao, Bulacan has won 166,546,579.20 from the December 14, 2020 6/45 lotto draw with the combination 34-11-06-24-25-39.
18th: The 6/49 jackpot amounting to 265,353,489.60 was bagged home by a solo winner from the City of Manila. Using the combination 06-12-18-20-32-41 in a draw held on December 6, 2020.
17th: A 6/42 lotto bettor from Angeles City, Pampanga has won Php 9,403,768.20 from the winning combination 13-28-09-34-25-19. The draw was held on December 1, 2020.
16th: The lucky bettor has won 20,398,839.60 pesos in combination, 13-42-03-31-02-22 in a 6/42 lotto draw held on November 21, 2020. The winner was from Guiuan, Easter Samar.
15th: One (1) winner from Ormoc Leyte during October 31, 2020 6/42 Lotto has won Php 48,709,689.40 in a combination, 26-27-40-21-01-41.
14th: A solo bettor from Talisay City, Cebu wins Php 35,543,079.20 during the October 31, 2020 6/55 lotto draw in the combination 18-52-17-02-54-55.
13th: A 6/55 millionaire from Valenzuela won Php 128,397,144.80 in a combination 02-12-22-27-03-29. The draw was held on September 23, 2020.
12th: With the 6/42 lotto combination 18-25-10-28-22-27, a lucky bettor from Batangas clinched the jackpot prize amounting to Php 8,597,525.00. The draw was held on September 15, 2020.
11th: A jackpot winner from Marikina City, Metro Manila has won the September 7, 2020 6/45 lotto draw with combination 37-07-34-17-05-27, having a jackpot prize of Php 24,042,63.80.
10th: One (1) lucky winner from Quezon City, Metro Manila has bagged the 6/58 jackpot prize amounting to Php 339,217,037.60 from a lucky combinations, 18-19-28-09-01-11, drawn on September 6, 2020.
9th: The latest jackpot winner has won Php 49,707,326.80 from a lotto 6/42 winning combinations 03-11-06-19-33-10 on September 3, 2020 draw.
The winning ticket was bought from a lotto agent located at San Fernando City, La Union.
8th: The 6/45 lotto ticket was bought from Brgy. Manggahan Gen. Trias, Cavite. The winner has won the base jackpot prize of Php 8,910,000.00 in lotto combinations 11-32-34-36-19-40 during the March 6, 2020 6/45 lotto draw.
7th: In combination 08-13-36-22-04-03, a solo lucky winner of Php 72,372,679.40 was taken home during the March 2, 2020 6/45 lotto draw. The ticket was bought from the lotto agent located in Antipolo City, Rizal.
6th: One (1) lotto bettor won the Php 36,632,592.40 jackpot prize during the February 13, 2020 6/42 lotto draw with lucky combinations at 15-27-36-08-41-11. Ticket was bought from the PCSO lotto outlet located in Tagum City, Davao del Norte.
5th: A super lucky lotto enthusiast from Ilagan City, Isabela won the Php 65,774,986.60 during the February 9, 2020 6/49 lotto draw with winning numbers 22-23-05-15-31-03.
4th & 3rd: Two (2) winners shared the jackpot prize of Php 68,523,435.40 during the January January 10, 2020 6/45 lotto draw in combinations 21-04-25-13-11-19. The winning tickets was bought from Pateros and Tacloban.
2nd: With number combinations 16-17-05-30-29-21, one (1) very lucky bettor has won Php 28,481,693.80 in January 11, 2020 6/42 lotto draw. The ticket was bought from the lotto outlet located in Mandaluyong City.
1st: Just beginning the year 2020 and PCSO has already given away millions. The January 8, 2020 6/55 lotto winning ticket of the 2020 first millionaire was bought from San Pablo City, Laguna (lotto combination 25-54-04-22-55-24) with a jackpot prize of Php 80,721,908.00.
PCSO announcement(s) and notice(s)
Is the PCSO related to e-sabong or online sabong? The answer is no. PCSO said that they are not in any way related to the activities concerning online sabong. Should you find any group or individuals using the name of PCSO in e-sabong, you may report them to police authorities nearest you.
May 15, 2021: All PCSO games have resumed in areas under MECQ, GCQ and MGCQ areas while remain suspended in ECQ-classified areas. To quote from Resolution No. 115 from the Inter-Agency Task Force (IATF),
The Philippine Charity Sweepstakes Office, and its authorized agents, may resume the authority to sell Lotto, Keno, Scratch-It, and Small Town Lottery Tickets nationwide even during MECQ. For this purpose, Section 3(5)(f) of the Omnibus Guidelines in the Implementation of Community Quarantine in the Philippines, as amended, shall be suspended in part relative only to lottery and betting shops.
February 10, 2021: PCSO reminds the public to be aware of entities pretending to be employees of PCSO and enticing the public to buy lotto tickets online using their betting platform. To date, PCSO has no online betting applications either thru app, texts or calls to cater such services.
STL Pares Updates
Are you one of the STL winners today, May 23, 2020? If in case, congratulations, If not, maybe this is not your lucky day. You can always try again.
We also love to hear your lotto lucky numbers today. Feel free to share your thoughts about the lotto results at the comment section below.
For clarifications, comments, complaints or suggestions about PCSO products and services, you may reach them through their official FB account.
To receive timely updates on daily lotto draw results, refer to PCSO official website or follow us at our Facebook and Twitter accounts.
Disclaimer: The STL result today May 23, 2020, are all courtesy of PCSO. This website does not claim ownership on any of the combination posted. Likewise, doesn't recommend any winning combination. The numbers above are for information dissemination purposes only. For verification on results and official announcements, always refer to PCSO official website.