The latest Small Town Lottery (STL) Swertres or Swer3 results for Friday, August 2, 2019 are posted for everyone's consumption. Results are courtesy of the Philippine Charity Sweepstakes Office.
11AM:
4PM:
9PM:
PCSO as well as this website reiterate that nobody knows what will come out in lotto results, you may use the digits at your own discretion.
STL Swer3 results are exclusive only to the following areas: Agusan del Norte, Agusan del Sur, Antique, Basilan, Bohol, Bukidnon, Cagayan de Oro City, Cebu Province, Compostela Valley, Cotabato City, Davao City, Davao del Norte, Davao del Sur, Davao Oriental, Eastern Samar, General Santos City, Lanao del Norte, Lapu Lapu City, Leyte, Mandaue City, Misamis Occidental, Misamis Oriental, Negros Oriental, North Cotabato, Northern Samar, Siquijor, Sultan Kudarat, Surigao del Norte, Surigao del Sur, Tacloban City, Zamboanga City, Zamboanga del Norte and Zamboanga Sibugay.
How to Play STL Swer3?
Playing STL Swer3 for Visayas and Mindanao areas is very easy. It is similar to the Swertres Lotto, just choose three (3) numbers from 0-9. If the player got the numbers in exact order, he/she wins.
Can I Play STL Swer3?
Yes, as long as you are eighteen (18) years old and above. Further, here is your access to summary of lotto result today for all lottery games of PCSO.
You may also want to back track and check the history of results for PCSO major lottery games (6/58 Ultra Lotto, 6/55 Grand Lotto, 6/49 Super Lotto, 6/45 Mega Lotto, 6/42 Lotto, 6D Lotto, 4D Lotto) and PCSO digit games (Swertres Lotto, EZ2 Lotto).
PCSO Daily Schedule of Games
Want to know the daily PCSO lotto games including other STL draws? Here's the schedule courtesy of PCSO.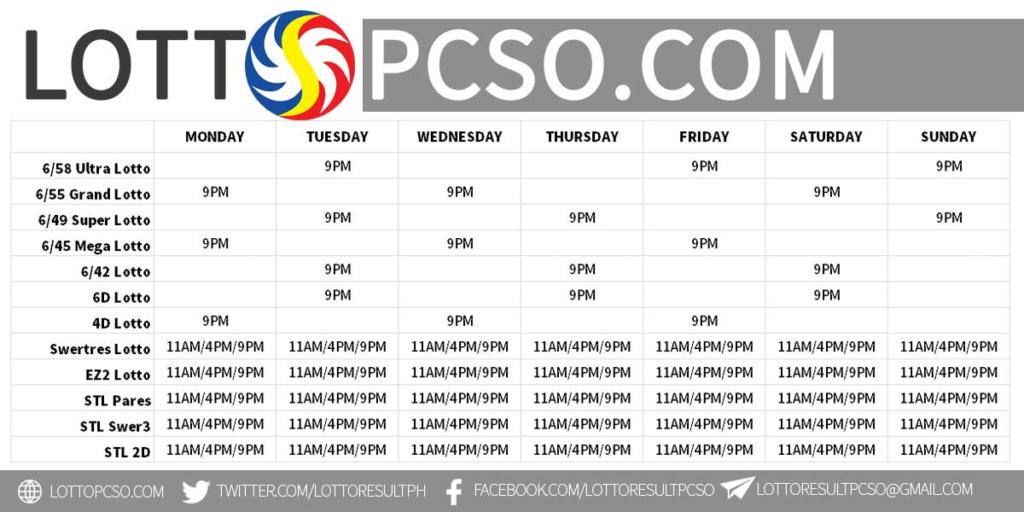 Updates
Are you one of the STL Swer3 winners for today, August 2, 2019? If in case, congratulations, If not, maybe this is not your lucky day. You can always try again.
We also love to hear your lotto lucky numbers today. Feel free to share your thoughts about the lotto results at the comment section below.
To receive timely updates regarding daily lotto draw results, refer to PCSO official website or follow us at our Facebook and Twitter accounts.