6/45 Lotto Result September 21, 2020 – The Philippine Charity Sweepstakes Office (PCSO) announced the 6/45 Lotto result including all important reminders in its draws at 9PM.
The 6/45 is also referred as the PCSO Mega Lotto. The 6/45 lotto winning numbers below, which may come in any order are courtesy of PCSO.
6/45 Lotto Result September 21, 2020
| Mega Lotto 6/45 | PCSO Results |
| --- | --- |
| Winning Combination | 43-23-44-03-08-05 |
| Jackpot Prize | Php 12,733,206.80 |
| Number of Winner(s) | 0 |
~ Subscribe to our YouTube Channel! Refresh the page for updated results…
See Also: History of 6/45 Mega Lotto Draw Results (Tabular Summary)
Previous 6/45 Lotto Draw Results
PCSO administers the 6/45 major lotto game having an initial jackpot at 9 million pesos every Monday, Wednesday and Saturday at the specified time slot. Here is the quick summary of Mega Lotto 6/45 results in the last ten (10) draws.
| Date | Winning Numbers | Jackpot Prize (Php) | No. of Winners |
| --- | --- | --- | --- |
| September 23, 2020 | * | * | * |
| September 21, 2020 | 43-23-44-03-08-05 | 12,733,206.80 | 0 |
| September 18, 2020 | 05-02-14-24-39-26 | 10,514,595.60 | 0 |
| September 16, 2020 | 18-33-17-08-26-02 | 8,910,000.00 | 0 |
| September 14, 2020 | 24-06-14-20-24-13 | 8,910,000.00 | 0 |
| September 9, 2020 | 35-02-25-37-45-38 | 8,910,000.00 | 0 |
| September 7, 2020 | 37-07-34-17-05-27 | 24,042,863.80 | 1 |
| September 4, 2020 | 44-14-04-40-25-27 | 22,160,366.00 | 0 |
| September 2, 2020 | 03-09-33-06-10-28 | 20,272,920.80 | 0 |
To know the full history and summary of all lotto draws conducted by PCSO, you may visit their dedicated summary pages here. The complete list of 6/45 lotto results for the year 2020 are posted as well at their specific pages.
PCSO as well as this website reiterate that nobody knows what will come out in any of the lotto draws. Please beware of other websites claiming the lotto winning numbers even day(s) ahead of the schedule.
Related PCSO Lotto Results
Summarized below are the recent updates on the results of the following PCSO lotto draws:
How much is the Mega Lotto 6/45 ticket?
Starting August 4, 2020, a player can buy the 6/45 lotto ticket for P20.00 (#Balikbente program) at the nearest authorized PCSO lotto outlet, inclusive of the Documentary Stamp Tax (DST).
How to play the 6/45 Lotto?
Mega Lotto 6/45 is one of the most popular major games of PCSO. To play, a player must choose 6 numbers from 1-45 and mark it in the playing card.
The player can also mark down the Lucky Pick or LP shall he preferred the machine to choose the numbers for him/her. A systematic play is also available for 6/45 Lotto draws for more chances of winning. More number of combinations equals more bet costs.
From the pari-mutuel system, PCSO major games consolation prizes will also be fixed. Those who win 3, 4 or 5 combinations will have fixed amount of prizes starting August 4, 2020. Here's the summary:
Category
Winning Nos.
Prizes
1st Prize
(Initial Jackpot)
6 out of 6 Numbers
Php 8.91 Million
(net of agent's prize commission)
2nd Prize
5 out of 6 Numbers
Php 32,000.00
3rd Prize
4 out of 6 Numbers
Php 1,000.00
4th Prize
3 out of 6 Numbers
Php 30.00
Lotto New Schedule of Games
August 19, 2020 Update: PCSO has announced that pursuant to the approved guidelines set by the IATF-MEID on the current quarantine measures, social distancing requirements and health and safety standards, PCSO shall sell all major games tickets following its current and latest draw day schedule as shown below.
Meanwhile, 3D or Swertres and 2D or EZ2 lotto games has resumed on August 24, 2020 at 2PM, 5PM and 9PM (everyday). Stay tuned for the official announcement on the resumption of 4D, 6D and STL lotto games.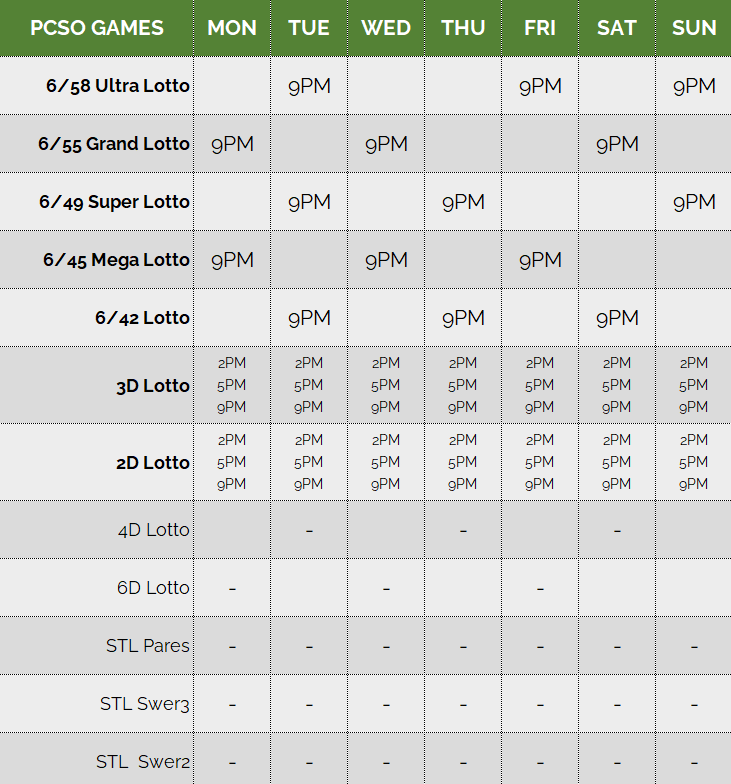 Where to check the 6/45 Lotto Results?
Aside from lottopcso.com, players can also watch the 6/45 Mega Lotto results in real-time via PTV as well as their online accounts via Facebook and Twitter. Official PCSO accounts are airing the lotto draws as well. In special occasions such as important national holidays, PCSO is announcing the suspension of draws days before the scheduled draw date.
How to claim the 6/45 Lotto Prize?
If you are the legit winner, be sure to write your name and affix the signature behind the winning ticket. Bring and present two (2) valid IDs for verification.
The lotto jackpot prizes can be claimed at the PCSO main office located at the PCSO head office located at 605 Conservatory Bldg., Shaw Blvrd. Corner Priceton St., Mandaluyong City. The jackpot prize is taxable pursuant to TRAIN Law.
PCSO thoroughly validates all tickets to be claimed. The public is reminded that they are serious in dealing with counterfeited/tampered tickets. They will not honor any, should anyone try to claim their prizes using such.
Likewise, for claiming the prizes below P10,000, it can be processed at the nearest PCSO Branch.
Major Games Jackpot Prize
You may also want to have an overview of the latest jackpot prize of the following major lottery games of PCSO.
Quick Reminders for Lotto Games
The lotto prize ticket, in case you won, has one (1) year validity. Likewise, the player has the sole responsibility for checking the accuracy of the data printed on the ticket(s) including bet type, bet amount, the draw date you want to enter and the numbers you want to play.
Interested players below eighteen (18) years old are not allowed to play any of the PCSO games.
Additionally, don't buy your lotto ticket to individuals claiming that the numbers and tickets will win. Get it from the authorized PCSO outlets only.
PCSO announcement(s) and notice(s)
August 19, 2020: Good news to all PCSO lotto bettors! Starting August 19, 2020 all major lotto games will resume in Metro Manila, Laguna, Batangas, Cavite, Bulacan and all areas in the country under General Community Quanrantine (GCQ) and Modified General Community Quarantine (MGCQ).
July 18, 2020: All major games ticket prices are backed to 20 Pesos, from 24 Pesos.
6/45 Lotto Result September 21, 2020 Updates
Did you win the 6/45 mega lotto jackpot for September 21, 2020? If in case, congratulations, If not, maybe this is not your lucky day. You can always try again.
We also love to hear your lotto lucky numbers today. Feel free to share your thoughts about the lotto results at the comment section below. For clarifications, comments, complaints or suggestions about PCSO products and services, you may reach them through their official FB account.
To receive timely updates regarding daily lotto draw results, refer to PCSO official website or follow us at our Facebook and Twitter accounts.
Disclaimer: The 6/45 Mega lotto result today, September 21, 2020, are all courtesy of PCSO. This website does not claim ownership on any of the combination posted. Likewise, doesn't recommend any winning combination. The numbers above are for information dissemination purposes only. For verification on results and official announcements, always refer to PCSO official website.