MANILA, Philippines – Is it possible to buy the PCSO Lotto tickets online? If so, how? These are some of the most common questions being asked by the lotto enthusiasts given today's transactions can all be done in the internet.
The Philippine Charity Sweepstakes Office (PCSO) is very transparent in saying that only those ticket bought in their authorized lotto outlet can be considered valid. So if some website is offering online sales of 6/58, 6/55, 6/49, 6/45, 6/42, Swertres/ 3D, EZ2/2D and STL tickets, think twice, it could be an obvious scam.
Lotto PCSO YouTube Channel: Subscribe Now! It's Free!
Buy PCSO Lotto Ticket Online
To date, PCSO has no facility that sells PCSO Lotto ticket online, though they have plans to implement such in the near future.
For now, the only online interaction a lotto player can have is to check the results.
Meanwhile, interested lotto players can always buy PCSO lotto tickets to over 7,700 lotto outlets nationwide from Monday to Friday and enjoy the exciting games they offer.
How to check the winning combination online?
There are lot of ways to check the PCSO winning numbers online. One is through this website, lottopcso.com. Players can also watch online through various social media accounts and pages like Facebook and Youtube. Official PCSO is also airing their lotto draws as well.
How to buy the lotto tickets?
All lotto major games ticket prize costs P24.00. This is inclusive of the Documentary Stamp Tax (DST). Simply proceed to any of the authorized lotto outlets and buy.
How to play the PCSO Lotto Major Games?

Playing all PCSO games comes with their respective rules. Below is the quick summary of how to play and win each games.
Ultra Lotto 6/58. The player wins if he/she got the six (6) correct winning numbers in any order. Drawn every Tuesday, Friday and Sunday, Lotto enthusiasts can win exciting prizes which may reach up to billion pesos jackpot prize.
Grand Lotto 6/55. Just like the other major games, 6/55 was played through a pari-mutuel game system. Lotto jackpot prize varies depending on ticket sales. Drawn every Monday, Wednesday and Saturday, players can expect big amounts as this is the second major game with the biggest initial jackpot prize.
Super Lotto 6/49. It is one of the most popular PCSO lotto games. In order to win, the player must choose 6 correct numbers from 1-49, in any order. Jackpot prize for this game starts at P16,000,000.
Mega Lotto 6/45. Lotto players just have to select their lucky numbers from 1-45. He/she wins if he got the 6 winning numbers in any order. Jackpot prize for 6/45 starts at nine (9) million pesos.
Lotto 6/42. For this major game, players can select from numbers 1-42. Jackpot prize for 6/42 starts at six (6) million pesos. Players at any of the major games can also select LP or Lucky Pick if they want the machine to choose the numbers for them.
Swertres/ 3D Lotto. One of the most popular digit games of PCSO. Player wins exciting prizes if he got the exact winning numbers from 0-9.
EZ2/ 2D Lotto. Players have to choose their lucky numbers from 1-31. He/she wins if he got the exact winning combinations. Player also has the option to play via lucky pick or the rambolito system.
STL Pares, Swer3, Swer2. Small Town Lottery is an exciting game for selected areas only. To win the STL Pares, player must have two (2) winning numbers from 1-40, in exact order. Playing the STL Swer3 is like playing the Swertres Lotto, player wins if he got the three (3) numbers from 0-9, in exact order while for Swer2, player wins if he/she got the two (2) numbers, in exact order from 0-9.
How to claim the Lotto Prize?
If you think your lotto combination has won, be sure to write your name and affix the signature behind the winning ticket and secure it properly.
The lotto jackpot prizes can be claimed at the PCSO main office located at the PCSO head office located at 605 Conservatory Bldg., Shaw Blvrd. Corner Priceton St., Mandaluyong City. Bring and present two (2) valid IDs for verification.
The jackpot prize is taxable by 20% pursuant to TRAIN Law. A 1% commission will also be given to the PCSO agent where the winning ticket was bought.
PCSO thoroughly validates all tickets to be claimed. The public is reminded that they are serious in dealing with counterfeited/tampered tickets. They will not honor any, should anyone try to claim their prizes using such.
Likewise, for claiming the prizes below P10,000, it can be processed at the nearest PCSO Branch.
PCSO Schedule of Games
PCSO is conducting lotto draws online at below specified time-slots. Be sure to buy your ticket before the cut-off.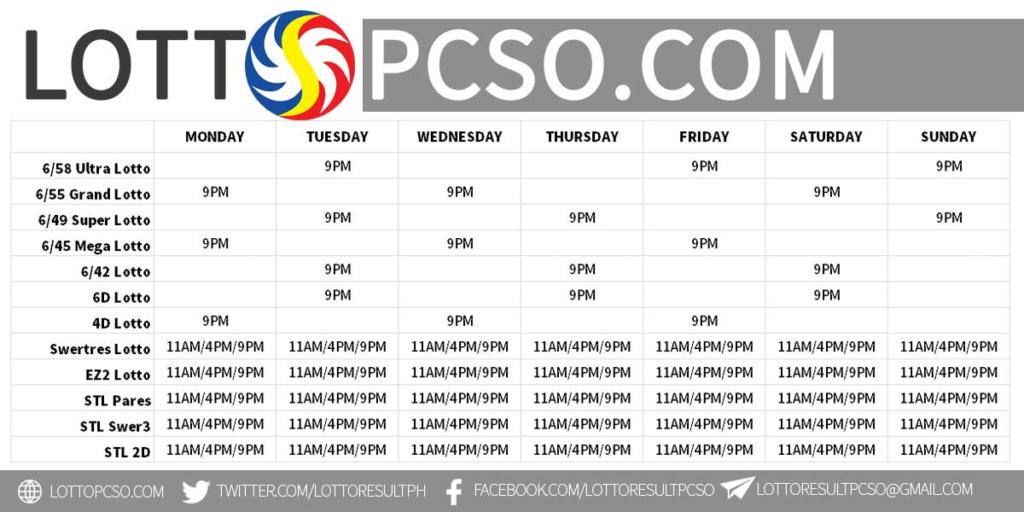 PCSO Lotto Jackpot Winners 2021
Since the start of 2021, PCSO has already given away more 1.5 Billion to thirty (30) lotto bettors around the country. Here's the summary of all lotto winners for 2021 PCSO draws.
2020 PCSO Lotto Jackpot Winners
21st: The last millionare of 2020 was from Baguio City. He/she won a jackpot prize of 20,980,657.40 in a 6/45 lotto draw in the combination, 06-25-15-29-12-33 during the December 30, 2020 draw.
20th: An addition to the list of 2020 jackpot winners was from Rodriguez, Rizal who won 23,902,883.80 in the December 19, 2020 6/42 draw in combination, 11-34-06-42-15-33.
19th: A solo bettor from Marilao, Bulacan has won 166,546,579.20 from the December 14, 2020 6/45 lotto draw with the combination 34-11-06-24-25-39.
18th: The 6/49 jackpot amounting to 265,353,489.60 was bagged home by a solo winner from the City of Manila. Using the combination 06-12-18-20-32-41 in a draw held on December 6, 2020.
17th: A 6/42 lotto bettor from Angeles City, Pampanga has won Php 9,403,768.20 from the winning combination 13-28-09-34-25-19. The draw was held on December 1, 2020.
16th: The lucky bettor has won 20,398,839.60 pesos in combination, 13-42-03-31-02-22 in a 6/42 lotto draw held on November 21, 2020. The winner was from Guiuan, Easter Samar.
15th: One (1) winner from Ormoc Leyte during October 31, 2020 6/42 Lotto has won Php 48,709,689.40 in a combination, 26-27-40-21-01-41.
14th: A solo bettor from Talisay City, Cebu wins Php 35,543,079.20 during the October 31, 2020 6/55 lotto draw in the combination 18-52-17-02-54-55.
13th: A 6/55 millionaire from Valenzuela won Php 128,397,144.80 in a combination 02-12-22-27-03-29. The draw was held on September 23, 2020.
12th: With the 6/42 lotto combination 18-25-10-28-22-27, a lucky bettor from Batangas clinched the jackpot prize amounting to Php 8,597,525.00. The draw was held on September 15, 2020.
11th: A jackpot winner from Marikina City, Metro Manila has won the September 7, 2020 6/45 lotto draw with combination 37-07-34-17-05-27, having a jackpot prize of Php 24,042,63.80.
10th: One (1) lucky winner from Quezon City, Metro Manila has bagged the 6/58 jackpot prize amounting to Php 339,217,037.60 from a lucky combinations, 18-19-28-09-01-11, drawn on September 6, 2020.
9th: The latest jackpot winner has won Php 49,707,326.80 from a lotto 6/42 winning combinations 03-11-06-19-33-10 on September 3, 2020 draw.
The winning ticket was bought from a lotto agent located at San Fernando City, La Union.
8th: The 6/45 lotto ticket was bought from Brgy. Manggahan Gen. Trias, Cavite. The winner has won the base jackpot prize of Php 8,910,000.00 in lotto combinations 11-32-34-36-19-40 during the March 6, 2020 6/45 lotto draw.
7th: In combination 08-13-36-22-04-03, a solo lucky winner of Php 72,372,679.40 was taken home during the March 2, 2020 6/45 lotto draw. The ticket was bought from the lotto agent located in Antipolo City, Rizal.
6th: One (1) lotto bettor won the Php 36,632,592.40 jackpot prize during the February 13, 2020 6/42 lotto draw with lucky combinations at 15-27-36-08-41-11. Ticket was bought from the PCSO lotto outlet located in Tagum City, Davao del Norte.
5th: A super lucky lotto enthusiast from Ilagan City, Isabela won the Php 65,774,986.60 during the February 9, 2020 6/49 lotto draw with winning numbers 22-23-05-15-31-03.
4th & 3rd: Two (2) winners shared the jackpot prize of Php 68,523,435.40 during the January January 10, 2020 6/45 lotto draw in combinations 21-04-25-13-11-19. The winning tickets was bought from Pateros and Tacloban.
2nd: With number combinations 16-17-05-30-29-21, one (1) very lucky bettor has won Php 28,481,693.80 in January 11, 2020 6/42 lotto draw. The ticket was bought from the lotto outlet located in Mandaluyong City.
1st: Just beginning the year 2020 and PCSO has already given away millions. The January 8, 2020 6/55 lotto winning ticket of the 2020 first millionaire was bought from San Pablo City, Laguna (lotto combination 25-54-04-22-55-24) with a jackpot prize of Php 80,721,908.00.
PCSO announcement(s) and notice(s)
Is the PCSO related to e-sabong or online sabong? The answer is no. PCSO said that they are not in any way related to the activities concerning online sabong. Should you find any group or individuals using the name of PCSO in e-sabong, you may report them to police authorities nearest you.
May 15, 2021: All PCSO games have resumed in areas under MECQ, GCQ and MGCQ areas while remain suspended in ECQ-classified areas. To quote from Resolution No. 115 from the Inter-Agency Task Force (IATF),
The Philippine Charity Sweepstakes Office, and its authorized agents, may resume the authority to sell Lotto, Keno, Scratch-It, and Small Town Lottery Tickets nationwide even during MECQ. For this purpose, Section 3(5)(f) of the Omnibus Guidelines in the Implementation of Community Quarantine in the Philippines, as amended, shall be suspended in part relative only to lottery and betting shops.
February 10, 2021: PCSO reminds the public to be aware of entities pretending to be employees of PCSO and enticing the public to buy lotto tickets online using their betting platform. To date, PCSO has no online betting applications either thru app, texts or calls to cater such services.
Should there be announcement in the future about online sales of PCSO ticket, we will keep everyone informed so you can buy PCSO lotto ticket at the comfort of your homes.
For clarifications, comments, complaints or suggestions about PCSO products and services, you may reach them through their official FB account.
To receive timely updates regarding daily lotto draw results, refer to PCSO official website or follow us at our Facebook and Twitter accounts.