SWERTRES RESULT AUGUST 8, 2020 – The Philippine Charity Sweepstakes Office (PCSO) will announce the August 8, 2020 3D/ Swertres results including all important reminders in its draws at 11AM (morning), 4PM (afternoon) and 9PM (evening).
Latest Update August 8, 2020: PCSO lotto draws are resumed from August 4, 2020 but for major draws only. We advise everyone to keep tuning in for the resumption of digit games including Swertres/3D and EZ2/2D.
Below Swertres winning digits for August 8, 2020, which should come in exact order are courtesy of PCSO.
Swertres 3D Result August 8, 2020
11AM: #-#-#
4PM: #-#-#
9PM: #-#-#
~ Subscribe now to our YouTube Channel! Refresh the page for updated results…
See Also: History of 3D Swertres Lotto Draw Results (Tabular Summary)
Swertres 3D Lotto Draw Results Quick Summary
The 3D Lotto is previously referred as Swertres Lotto. This is the most popular fixed-prize game being administered by PCSO. The game is conducted by the agency everyday at above-stated time schedule while the page is consistently updated to show the results at specified time-slots. Here is the quick summary of results in the last ten (10) days.
To know the history and summary of all lotto draws conducted by PCSO, you may visit the dedicated summary pages here. 3D Swertres results yesterday are posted as well at their specific pages.
PCSO as well as this website reiterate that nobody knows what will come out in any of the lotto draws. Please beware of other websites claiming the lotto winning numbers even day(s) ahead of the schedule.
Related Lotto Draws for Today
Summarized below are the recent updates on the results of the following PCSO lotto draws:
Swertres/3D, EZ2/2D Results August 2020 (11AM, 4PM, 9PM) – No draws yet
STL Pares, Swer3, Swer2 Results August 2020 (11AM, 4PM, 9PM) – No draws yet
How much is the 3D Swertres ticket?
For Swertres Lotto fanatics, a player can buy the 3D ticket for 12 Pesos at the nearest authorized PCSO lotto outlet, inclusive of the Documentary Stamp Tax (DST).
How to play and win the 3D Lotto?
3D Lotto is a fixed prize game of three (3) numbers from Zero (0) to Nine (9).
As long as the player is eighteen (18) years old and above, he/she can play the 3D/ Swertres Lotto at any outlet of choice.
To play the 3D Swertres Lotto,
A player must choose three numbers and mark it in the Swertres Lotto slip.
The player may also choose the Lucky Pick (LP) if he wants the machine to choose the number for him.
Player can play via three game types, namely the Standard Play, Rambolito 3 and Rambolito 6.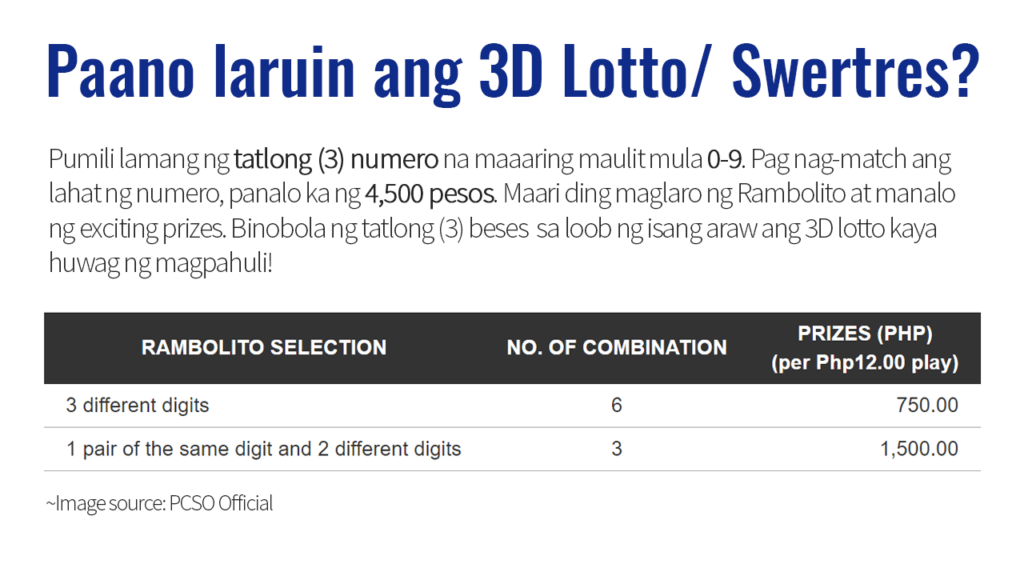 In 3D lotto standard play, player can win P 4,500 pesos provided that the numbers are in exact order. The player can also play the Rambolito system wherein the online lottery system generates permutation of the chosen three numbers. In Rambolito 3, player wins 1,500 pesos if he gets one pair of same digit and 1 different digit while in Rambolito 6 play, player wins 750 pesos if he gets 3 different digits in any order.
To quote from PCSO,
You may also want to play the Rambolito. Select a 3-digit number combination and the system will automatically permutate and generate all its possible combinations. If the selected 3-digit combination has no repeating digits, e.g.123, the number of combinations generated will be six (6). If the selected 3-digit combination has two (2) repeating digits, e.g. 122, the number of combinations generated will be three (3). Lucky Pick is also available in the Rambolito System Play, but the option of repeating digits is not applicable.

Source: PCSO
Where to check the Swertres Results?
Aside from lottopcso.com, players can also watch the 3D results in real-time via PTV as well as their online accounts via Facebook and Twitter. Official PCSO accounts are airing the lotto draws as well. In special occasions such as important national holidays, PCSO is announcing the suspension of draws days before the scheduled draw date.
How to claim the 3D Swertres Lotto Prize?
For the amount to claim of 5,000 pesos and below, prizes can be claimed at the nearest authorized lotto outlet or at the nearest PCSO branch upon validation of the tickets.
For prizes above 5,000 pesos up to 20,000 pesos, prizes can be claimed at the nearest PCSO Branch office while above 20,000 pesos prize can be claimed at the PCSO head office located at 605 Conservatory Bldg., Shaw Blvrd. Corner Priceton St., Mandaluyong City.
Prizes of 10,000 pesos above are taxable (20%) pursuant to TRAIN law.
PCSO Lotto Millionaires 2020
Since the start of 2020, PCSO has already given away more than three hundred sixty one million pesos (Php361,000,000) to eight (8) lucky lotto bettors around the country. PCSO has disclosed the locations from where the lucky winning ticket was bought. Here's the summary of all winners for 2020 PCSO lotto draws.
Lotto New Schedule of Games
August 4, 2020 Update: PCSO has announced that pursuant to the approved guidelines set by the IATF-MEID on the current quarantine measures, social distancing requirements and health and safety standards, PCSO shall initially sell all major games tickets following its current and latest draw day schedule as shown below. Kindly wait for further announcement on the resumption of digit games including 2d, 3D or Swertres, 4D and 6D Lotto as well as the STL games.
Major Games Jackpot Prize
You may also want to have an overview of the latest jackpot prize of the following major lottery games of PCSO.
Quick Reminders for Swertres Players
The lotto prize ticket, in case you won, has one (1) year validity. Likewise, the player has the sole responsibility for checking the accuracy of the data printed on the ticket(s) including bet type, bet amount, the draw date you want to enter and the numbers you want to play.
PCSO Announcement(s) and Notice(s) to the Public
August 6, 2020: PCSO has announced that lotto major games will resume on August 7, 2020 to areas not under Modified Enhanced Community Quarantine (MECQ) or ECQ. To quote,
Effective August 7, 2020, the draws and selling of tickets of lotto jackpot bearing games Lotto 6/42, Mega Lotto 6/45, Super Lotto 6/49, Grand Lotto 6/55, Ultra Lotto 6/58 shall resume in areas under General Community Quarantine (GCQ) and Modified General Community Quarantine (MGCQ).

Source: PCSO
August 3, 2020: In view of the declaration of President Rodrigo Duterte placing the National Capital Region (NCR), Laguna, Cavite, Rizal and Bulacan under MECQ from August 4, 2020 to August 18, 2020, PCSO games including lotto, instant sweepstakes and KENO in these areas will be suspended until further notice.
July 20, 2020: Good news everyone! PCSO announced that regular lotto operations will resume on August 4, 2020 at selected lotto outlets and PCSO branches depending on the community quarantine category and LGU's special concern lockdown (only those under GCQ and MGCQ will resume). Meanwhile, KENO operations and selling of tickets will resume on July 28, 2020.
July 18, 2020: All major games ticket prices are backed to 20 Pesos, from 24 Pesos.
June 17, 2020: PCSO will go digital! GM Royina Garma said in a public briefing on June 13, 2020. She also said that once the lotto returned, there will be a fifteen (15) days special draw for advance-bought tickets. To quote,
We have already set the technical specifications na pwedeng gamitin ng mga agents. This is still subject for board approval. It will take time kasi they need to invest. Siguro mga two (2) to three (3) months ito.

Once mag-resume ang operations ng lotto, magkakaroon ng 15 days special draw para sa six days na nakabili ng advance tickets. Itago lang nila ang tickets na advance nilang nabili, valid lahat yun.
February 10, 2020: 6D Lotto is now a nationwide lotto game. Players from Luzon, Visayas and Mindanao may secure their tickets and tune in every Tuesday, Thursday and Saturday to win exciting prizes.
Swertres Updates
Are you one of the 3D/Swertres winners today August 8, 2020? If in case, congratulations!
We also love to hear your lotto lucky numbers today. Feel free to share your thoughts about the lotto results at the comment section below.
To receive timely updates on daily lotto draw results, we recommend to refer at PCSO official website or follow us at our Facebook and Twitter accounts.
Disclaimer: The Swertres result today August 8, 2020, are all courtesy of PCSO. This website does not claim ownership on any of the combination posted. Likewise, doesn't recommend any winning combination. The numbers above are for information dissemination purposes only. For verification on results and official announcements, always refer to PCSO official website.