LOTTO RESULTS TODAY – The Philippine Charity Sweepstakes Office (PCSO) releases the official results of all lotto draws for today. Below is the 11AM, 4PM and 9PM updated summary of winning numbers/combination for all games conducted by PCSO.
Shown are the details of all PCSO games including the Ultra Lotto 6/58, Grand Lotto 6/55, Super Lotto 6/49, Mega Lotto 6/45, Lotto 6/42, 6D Lotto, 4D Lotto, Swertres/3D Lotto, EZ2/ 2D Lotto, and STL games Pares, Swer3 & Swer2 / 2-Digits.
~ Subscribe now to our YouTube Channel! Refresh the page for updated summary of results…
PCSO Lotto Draw
Winning Numbers
Jackpot
6/58 Ultra Lotto Result - August 7, 2020
50-41-56-01--08-13
305,493,470.80
6/55 Grand Lotto Result - March 30, 2020
41-51-16-32-21-11
80,074,091.80
6/49 Super Lotto Result - March 29, 2020
35-16-47-02-03-10
38,252,271.20
6/45 Mega Lotto Result - August 7, 2020
37-38-09-35-42-05
9,215,714.80
6/42 Lotto Result - March 28, 2020
35-03-07-34-08-22
35,482,120.60
6 Digit (6D) Lotto Result - March 28, 2020
5-3-1-3-7-4
2,586,924.62
4 Digit (4D) Lotto Result - March 30, 2020
1-2-7-6
*
EZ2/ 2D Lotto Result Today - March 19, 2020
11:00 AM
07-19
4,000.00
4:00 PM
*
*
9:00 PM
*
*
Swertres/ 3D Lotto Result Today - March 19, 2020
11:00 AM
4-0-4
4,500.00
4:00 PM
*
*
9:00 PM
*
*
STL Pares Result - July 17, 2020
11:00 AM
Cancelled
N/A
4:00 PM
Cancelled
N/A
9:00 PM
Cancelled
N/A
STL Swer3 Result - July 17, 2020
11:00 AM
Cancelled
N/A
4:00 PM
Cancelled
N/A
9:00 PM
Cancelled
N/A
STL Swer2 Result - July 17, 2020
11:00 AM
Cancelled
N/A
4:00 PM
Cancelled
N/A
9:00 PM
Cancelled
N/A
PCSO is the central agency in the Philippines that legally conducts nationwide lottery draws. The money generated from the bets are used to provide funds for charity purposes. Likewise, the money are also utilized for health programs, medical assistance & services and charities of national character. All PCSO lotto result for the major games can come in any order while the digit games should be in exact order.
Related Lotto Results for Today
Itemized below are the recent updates on the results of the following PCSO lotto draws:
Swertres/3D, EZ2/2D Results August 2020 (11AM, 4PM, 9PM) – No draws yet
STL Pares, Swer3, Swer2 Results August 2020 (11AM, 4PM, 9PM) – No draws yet
To know the full history and summary of all lotto draws conducted by PCSO, you may visit their dedicated summary pages here. The complete list of 6/55 lotto results from the year 2019 are posted as well at their specific pages.
PCSO as well as this website reiterate that nobody knows what will come out in any of the lotto draws. Please beware of other websites claiming the lotto winning numbers even day(s) ahead of the schedule.
Major Games Jackpot Prize
You may also want to have an overview of the latest jackpot prize of the following major lottery games of PCSO.
Where to claim the Prize?
If you are the legit winner, be sure to write your name and affix the signature behind the winning ticket. Bring and present two (2) valid IDs for verification.
The lotto jackpot prizes can be claimed at the PCSO main office located at the PCSO head office located at 605 Conservatory Bldg., Shaw Blvrd. Corner Priceton St., Mandaluyong City. The jackpot prize is taxable pursuant to TRAIN Law.
PCSO thoroughly validates all tickets to be claimed. The public is reminded that they are serious in dealing with counterfeited/tampered tickets. They will not honor any, should anyone try to claim their prizes using such.
Likewise, for claiming the prizes below P10,000, it can be processed at the nearest PCSO Branch.
Where to check the PCSO Lotto Results?
Aside from lottopcso.com, players can also watch the PCSO lotto draws in real-time via PTV as well as their online accounts via Facebook and Twitter. Official PCSO accounts are airing the lotto draws as well. In special occasions such as important national holidays, PCSO is announcing the suspension of draws days before the scheduled draw date.
Quick Reminder for PCSO Lotto Winners
The lotto prize ticket, in case you won, has one (1) year validity. Likewise, the player has the sole responsibility for checking the accuracy of the data printed on the ticket(s) including bet type, bet amount, the draw date you want to enter and the numbers you want to play.
Interested players below eighteen (18) years old are not allowed to play any of the PCSO games.
Additionally, don't buy your lotto ticket to individuals claiming that the numbers and tickets will win. Get it from the authorized PCSO outlets only.
Do not subject the ticket under high temperature. Remember that the PCSO generated tickets are heat-sensitive and PCSO will not honor severely damaged tickets.
Philippine Charity Sweepstakes Office
PCSO mainly engage themselves in projects and activities in health and welfare. To quote from PCSO official,
PCSO holds and conducts charity sweepstakes, races, and lotteries and engages in health and welfare-related investments, projects, and activities to provide for permanent and continuing sources of funds for its programs. It also undertakes other activities to enhance and expand such fund-generating operations as well as strengthen the agency?s fund-management capabilities.

Retrieved from Philippine Charity Sweepstakes Office
Likewise, the main purpose and product of PCSO is to conduct the daily lottery games to sustain its financial source of charity programs.
PCSO Daily Schedule of Games
Here's the daily schedule of the lotto games, courtesy of PCSO.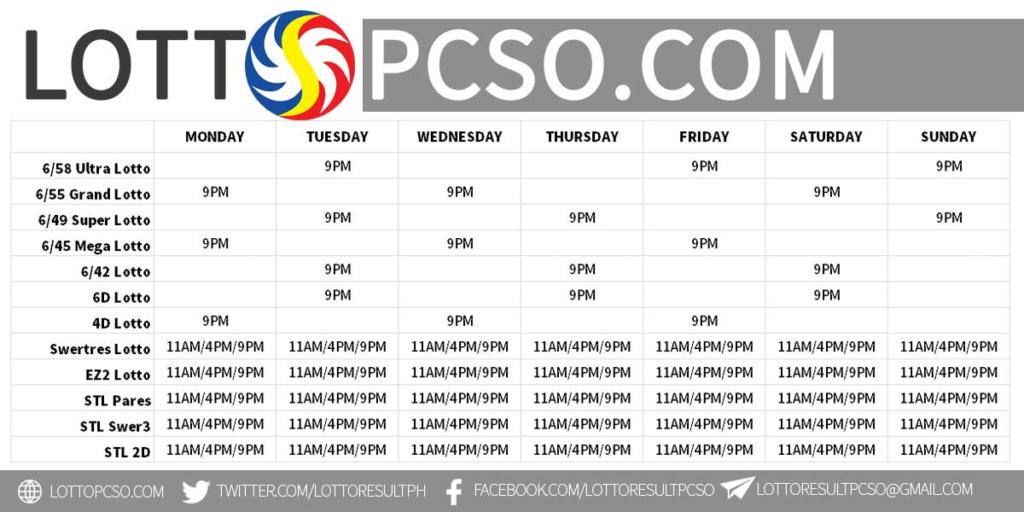 PCSO Lotto Millionaires 2020
Since the start of 2020, PCSO has already given away more than three hundred sixty one million pesos (Php361,000,000) to eight (8) lucky lotto bettors around the country. PCSO has disclosed the locations from where the lucky winning ticket was bought. Here's the summary of all winners for 2020 PCSO lotto draws.
How to Play the PCSO Lotto Games?
Playing all PCSO games comes with their respective rules. Below is the quick summary of how to play and win each games.
Ultra Lotto 6/58. The player wins if he/she got the six (6) correct winning numbers in any order. Drawn every Tuesday, Friday and Sunday, Lotto enthusiasts can win exciting prizes which may reach up to billion pesos jackpot prize.
Grand Lotto 6/55. Just like the other major games, 6/55 was played through a pari-mutuel game system. Lotto jackpot prize varies depending on ticket sales. Drawn every Monday, Wednesday and Saturday, players can expect big amounts as this is the second major game with the biggest initial jackpot prize.
Super Lotto 6/49. It is one of the most popular PCSO lotto games. In order to win, the player must choose 6 correct numbers from 1-49, in any order. Jackpot prize for this game starts at P16,000,000.
Mega Lotto 6/45. Lotto players just have to select their lucky numbers from 1-45. He/she wins if he got the 6 winning numbers in any order. Jackpot prize for 6/45 starts at nine (9) million pesos.
Lotto 6/42. For this major game, players can select from numbers 1-42. Jackpot prize for 6/42 starts at six (6) million pesos. Players at any of the major games can also select LP or Lucky Pick if they want the machine to choose the numbers for them.
Swertres/ 3D Lotto. One of the most popular digit games of PCSO. Player wins exciting prizes if he got the exact winning numbers from 0-9.
EZ2/ 2D Lotto. Players have to choose their lucky numbers from 1-31. He/she wins if he got the exact winning combinations. Player also has the option to play via lucky pick or the rambolito system.
STL Pares, Swer3, Swer2. Small Town Lottery is an exciting game for selected areas only. To win the STL Pares, player must have two (2) winning numbers from 1-40, in exact order. Playing the STL Swer3 is like playing the Swertres Lotto, player wins if he got the three (3) numbers from 0-9, in exact order while for Swer2, player wins if he/she got the two (2) numbers, in exact order from 0-9.
PCSO Announcement(s) and Notice(s) to the Public
August 6, 2020: PCSO has announced that lotto major games will resume on August 7, 2020 to areas not under Modified Enhanced Community Quarantine (MECQ) or ECQ. To quote,
Effective August 7, 2020, the draws and selling of tickets of lotto jackpot bearing games Lotto 6/42, Mega Lotto 6/45, Super Lotto 6/49, Grand Lotto 6/55, Ultra Lotto 6/58 shall resume in areas under General Community Quarantine (GCQ) and Modified General Community Quarantine (MGCQ).

Source: PCSO
August 3, 2020: In view of the declaration of President Rodrigo Duterte placing the National Capital Region (NCR), Laguna, Cavite, Rizal and Bulacan under MECQ from August 4, 2020 to August 18, 2020, PCSO games including lotto, instant sweepstakes and KENO in these areas will be suspended until further notice.
July 20, 2020: Good news everyone! PCSO announced that regular lotto operations will resume on August 4, 2020 at selected lotto outlets and PCSO branches depending on the community quarantine category and LGU's special concern lockdown (only those under GCQ and MGCQ will resume). Meanwhile, KENO operations and selling of tickets will resume on July 28, 2020.
July 18, 2020: All major games ticket prices are backed to 20 Pesos, from 24 Pesos.
June 17, 2020: PCSO will go digital! GM Royina Garma said in a public briefing on June 13, 2020. She also said that once the lotto returned, there will be a fifteen (15) days special draw for advance-bought tickets. To quote,
We have already set the technical specifications na pwedeng gamitin ng mga agents. This is still subject for board approval. It will take time kasi they need to invest. Siguro mga two (2) to three (3) months ito.

Once mag-resume ang operations ng lotto, magkakaroon ng 15 days special draw para sa six days na nakabili ng advance tickets. Itago lang nila ang tickets na advance nilang nabili, valid lahat yun.
February 10, 2020: 6D Lotto is now a nationwide lotto game. Players from Luzon, Visayas and Mindanao may secure their tickets and tune in every Tuesday, Thursday and Saturday to win exciting prizes.
PCSO Lotto Updates
Did you win the lotto jackpot for today? If in case, congratulations, If not, maybe this is not your lucky day. You can always try again.
We also love to hear your lotto lucky numbers today. Feel free to share your thoughts about the lotto results at the comment section below.
For clarifications, comments, complaints or suggestions about PCSO products and services, you may reach them through their official FB account.
To receive timely updates regarding daily lotto draw results, refer to PCSO official website or follow us at our Facebook and Twitter accounts.
Disclaimer: The lotto result today, are all courtesy of PCSO. This website does not claim ownership on any of the combination posted. Likewise, doesn't recommend any winning combination. The numbers above are for information dissemination purposes only.